ANDREA ZAMBOROVA.....
She is married now....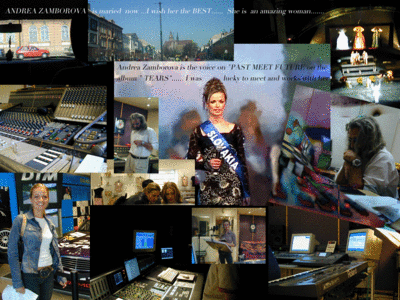 Short Stories

Andrea is a friend of mine , she is married now and i really wish her and to her husband a really nice life full of joy and pleasure.... I was not abble to go to kosice on saturday, the work here was too much capting me , then i send them thru this blog ALL MY LOVE ...... for information andrea is the voice on the title: " PAST MEETS FUTURE"... on my last CD "TEARS" ....
Now i am going to start the NEBRA SKY DISK COUNTDOWN...... 100 Days before the market get it ... I know that the amount of work still to finish is very important, orchestration, recording and mixing should take 2 mounths minimum..... We will follow the process day by day, i hope your are going to like the new approach of producing a album link to the internet connections,having reactions, interests, suggestions, from this new world .....
Ecrit par frederick, le Dimanche 14 Août 2005, 00:31 dans "ACTUALITÉS".
Article précédent - Répondre à cet article - Article suivant