MEMORIES OF 2008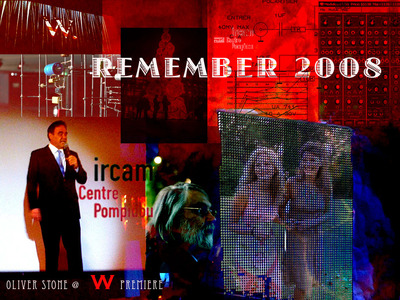 Somes goods souvenirs from this amazing year 2008 , full of new decisions and new artistic directions.....
4 years after "ALEXANDER" , quit visit to Oliver for the W premiere in Paris , I will see them with budd in L.A in january during the NAMM show. Finally nice talk with Oliver and Gladyss. He is really amazing this guy..........
A definit contract as Valorisation Director at IRCAM, A lot of travels around the globe representing this Institut.
A new Sountracks with  
VANGELIS


A now  " Christmass Gift "  (version 2 revA ) a 20 mn of " 
INSIDE

 " Episode 1. and 
Enjoy it ..... but you must be registered for this gift .....
INSCRIPTION
INSIDE
Ecrit par frederick, le Vendredi 19 Décembre 2008, 21:52 dans "ACTUALITÉS".
Article précédent - Répondre à cet article - Article suivant